What you will need:
Derwent Pastel Paint Pan Set
As part of the Derwent Ambassador Programme, of which I am now a part, I was asked to do a blog about the new Derwent Pastel Paint Pan Set.
The set comes in a very handy compact case. I immediately thought that was ideal if anyone wanted to use it while travelling or perhaps out for the day and wishing to paint; this will be a useful addition to my artist set of paints. It also comes with a brush that can be assembled together with a canister that you fill with water, which is really useful.
My artwork is mainly botanical and when I opened the set I knew immediately that it would be perfect for my flower paintings.
I was in the process of growing some tulips, extremely slowly! However, then we had several days of sunshine and low and behold the tulip flower heads emerged.
Starting a piece of artwork can be the scariest part and I suggest doing sketches on paper and just getting the feel of your subject. Never feel you have to draw and paint a flower just as it is. You can turn it around, certainly look at it from different aspects, until you find what you will be painting pleasing to look at, not only for yourself but others as well.
After working on sketches of the tulips, I decided on my final composition.
I tend to use a light box to transfer my final sketch onto watercolour paper. Don't worry if you haven't one, a larger window will be just as good, as long as it has good light coming into it.
So, put your final sketch onto the window, or light box and then cover with your watercolour paper, the image will show through and then you can trace it onto your paper.
Working your preparational sketches onto tracing paper or layout paper is better than using your very precious watercolour paper to prepare sketches…..this should remain in perfect condition to start your painting on.
One of my favourite Derwent papers is the Derwent Lightfast paper, I love the smooth surface and not only is lovely for coloured pencils but watercolours as well. But for this piece I used the Derwent Inktense paper in the largest size.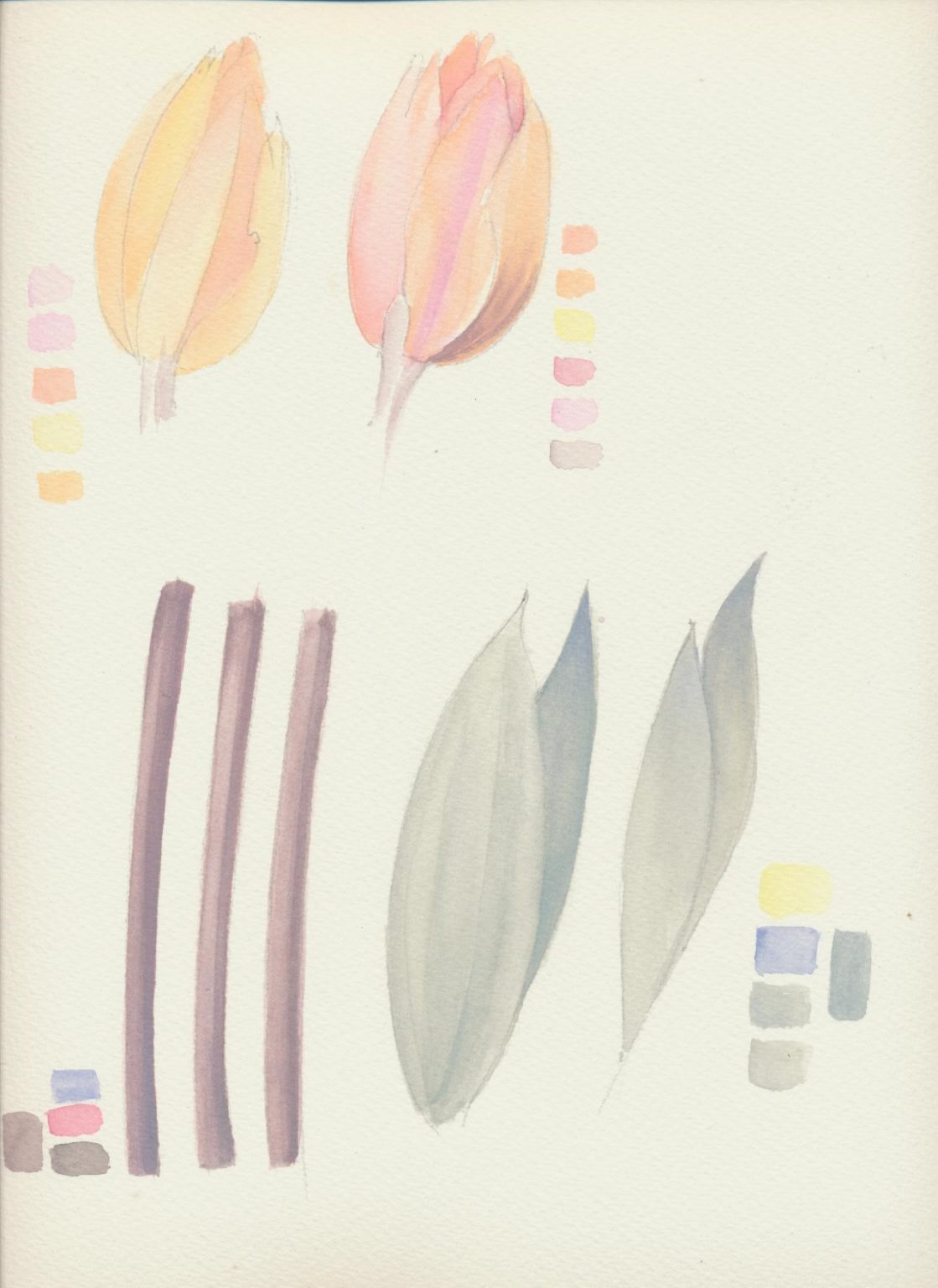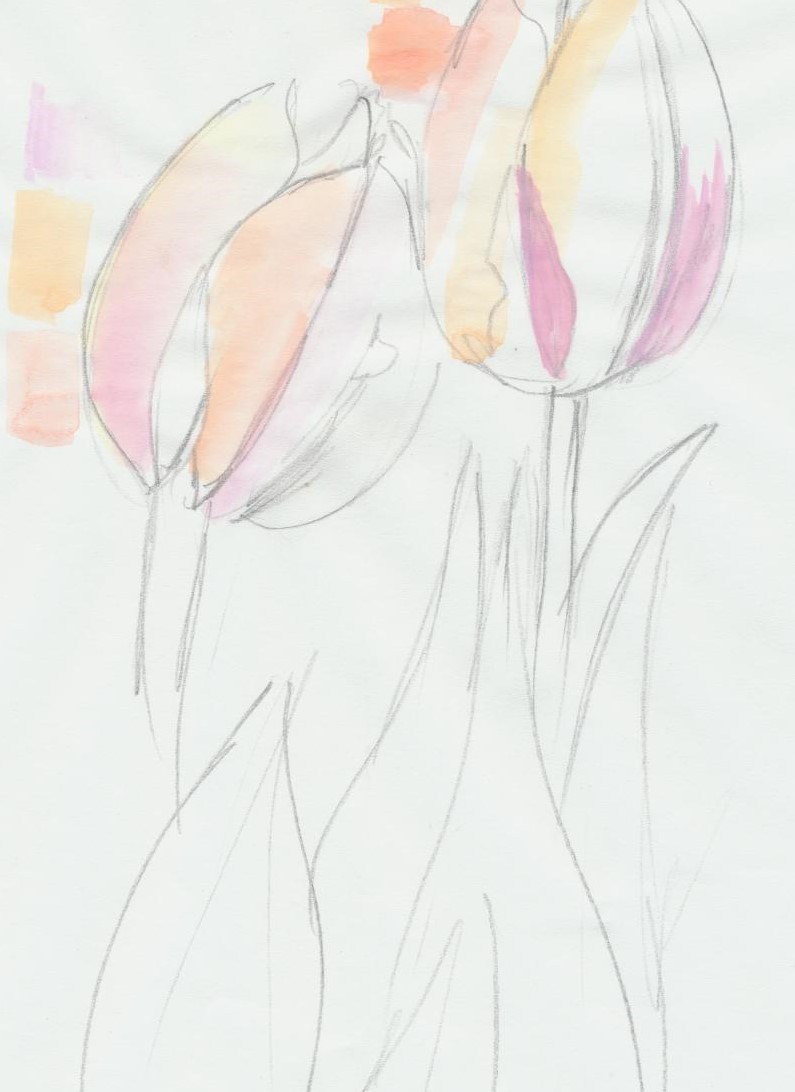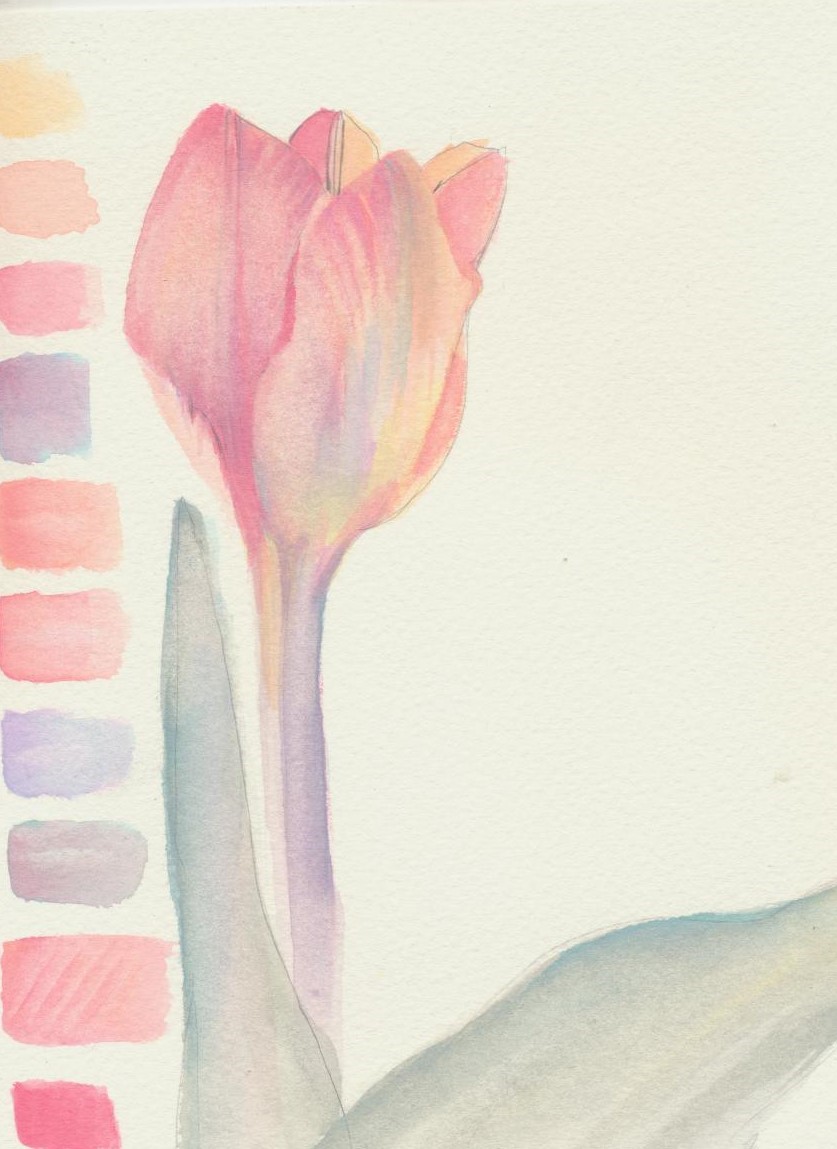 I did some initial colour studies to test how the paint looked when applying not only one wash of colour but 3. This was useful as I  wanted to see how the colours mixed together to produce other shades, which I thought I would need for my tulips.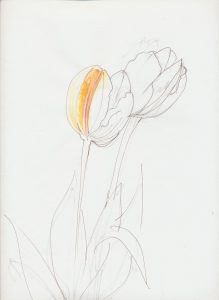 I started my tulip heads with a light shade of Peach and Coral Pink. On the second tulip I added some Lemon as I had discovered this gave another shade which I knew I liked. Parts of my tulip had darker markings on them and so I I introduced Pink flamingo, Orchid Pink and Lavender, all of which blended very well with my first washes of colour…useful where one petal overlapped another and a darker shade was needed.
For my tulip leaves the colour Artichoke was perfect. However I wanted to introduce other colours for variation. Therefore I added some Lemon for certain areas and also some of the very lovely Cornflower Blue, which I used as a final wash of colour over the tips of the leaves.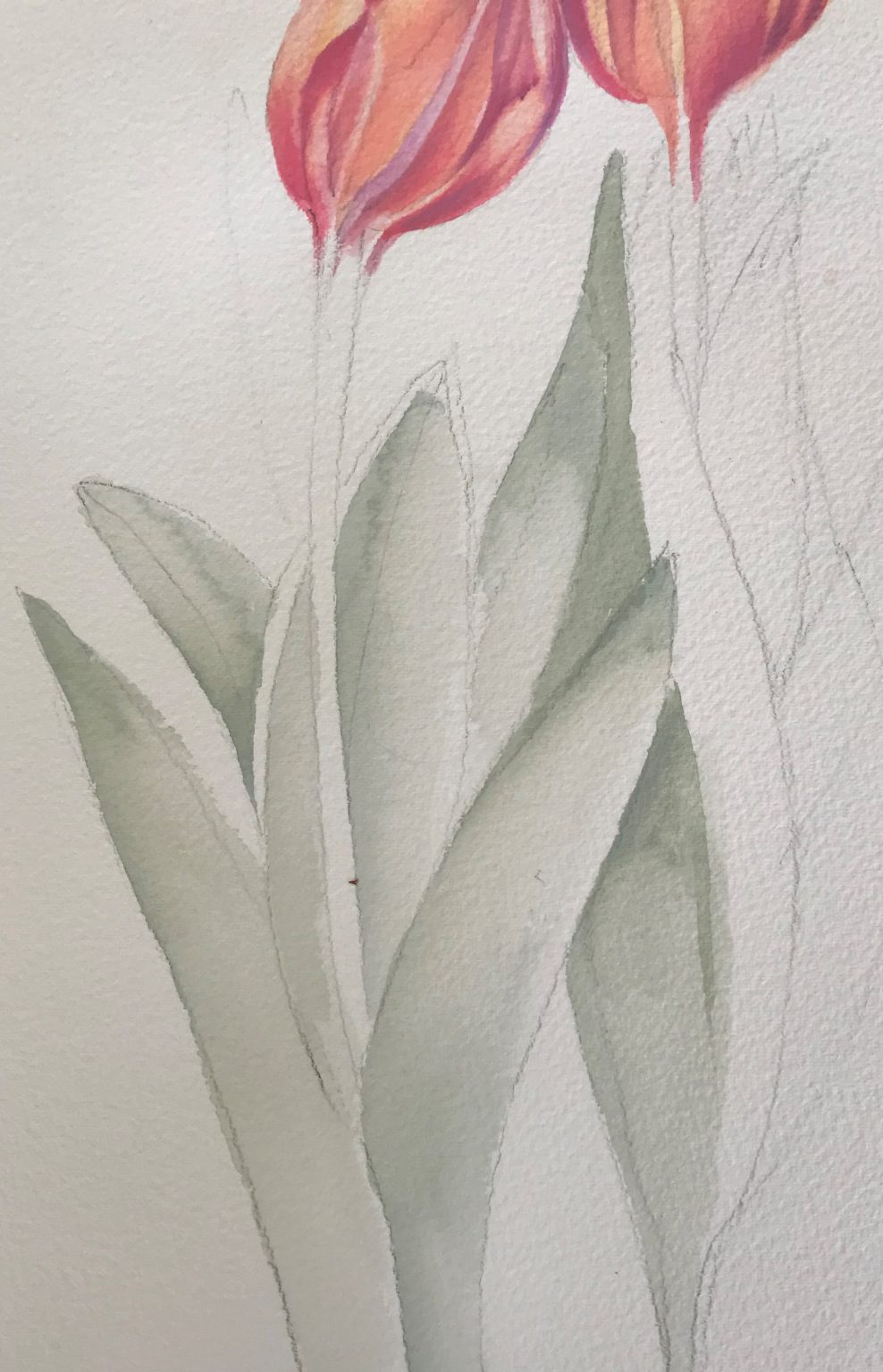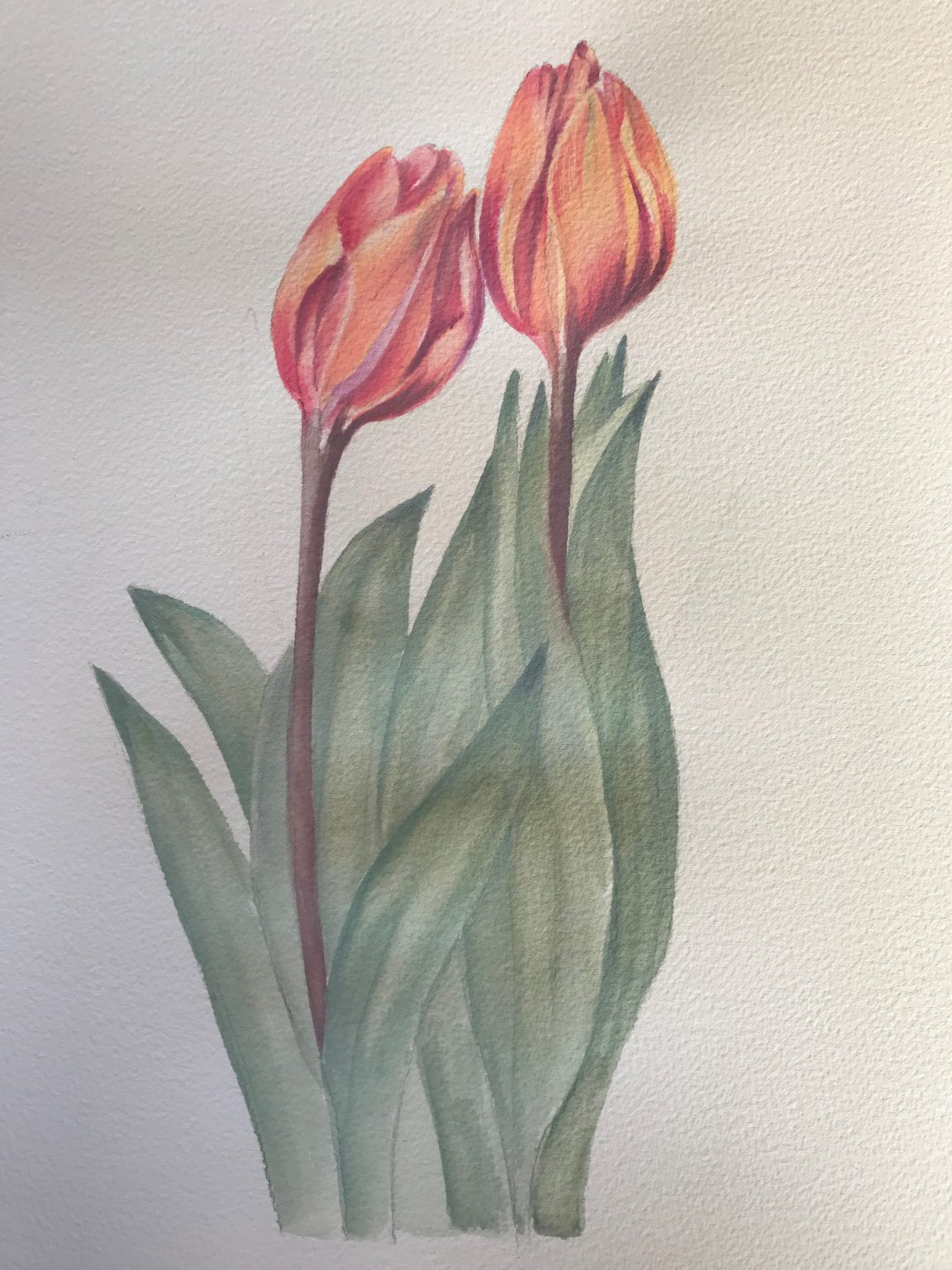 The stems of the Tulips are a dark pinky brown colour. I experimented with the colours in the palette and discovered that the Storm Grey and Pink Flamingo were a perfect colour combination. I applied a light wash of colour, as I had done on all the painting and went over again when I needed stronger colour. This is how I handled the stems as I needed to leave some light to give a feeling of roundness to the stem.
I was happy with how the paints handled and will certainly be using them for other subjects. The muted colours will be perfect for a lot of my botanical work and I am already keen to use them on the emerging iris in my garden.