I love my watercolours and especially the new Line and Wash Paint Pan Set from Derwent. In this set there is a combination of Inktense, Graphitint and Pastel paints, plus two Line Maker pens that I didn't use in this artwork. I decided to use this paint pan set to paint my new puppy Bowie. I drew the outline with the Derwent Precision Mechanical Pencil.
Then I gave it colour by activating the paints with the mini waterbrush that is included in the Line and Wash Paint Pan Set. I started with the first layer and then built up the colours from light to dark colours in several layers. You have to be patient and wait until the previous layer has dried.
To create contrast in this watercolour puppy, I laid down many layers of mixed colours. You can mix the Inktense colours with the Graphitint paints easily, allowing you to create even more beautiful colours.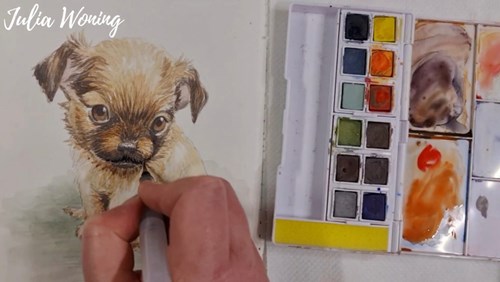 Here is the final result.
Watch the video below.
Good luck with practising with the Derwent Line and Wash Paint Pan Set, the Derwent Precision Mechanical Pencil and enjoy creating – there's always time to add a bit of colour to your life!
Thanks to Julia Woning for creating this fantastic piece and video for us! You can discover her work on her website, Facebook, Instagram or YouTube.