In July of 2021, with leftover year-old canceled plane tickets, my husband, parents, and a few friends finally embarked on a long-awaited journey to the land of Ice and Fire. We were eager to go and grateful for the international travel opportunity. This was going to be a trip to remember, and we would make sure to savor our time as we explored the North Atlantic coast. 
In preparation for this journey, I reviewed my international packing list and brought a few extra art supplies. After all, I knew I was about to see volcanoes, puffins, teal Atlantic waters, blue and pink skies, vibrant green moss, and turquoise waterfalls. I reached out to Derwent to ask if I could share my journey through the use of travel paint palettes. With support and encouragement from the team, I packed four palettes, a few water brushes, and watercolor paper and set off to see what I could capture. I wanted to be equipped with the most versatile, professional colors and prepared with the most compact supplies. Derwent palettes have been in my watercolor toolbox since 2019, so I knew they were well-suited for such a trip. In the end, the vivid colors and diverse palettes exceeded my expectations.
There is truly too much to write about this trip in a single blog post. Therefore, this specific piece will introduce the highlights of our itinerary and demonstrate how I used the act of painting and journaling to connect with my surroundings and remember each magical experience. The itinerary is accompanied with illustrations created during and shortly after the trip. View the video below to see how I used each palette.
THE SUPPLIES
I brought the following four Derwent palettes:

THE ITINERARY
Day 1 – Landing in Reykjavik
We arrived in Iceland on the morning of Wednesday, July 21, to begin our counterclockwise circle around Highway 1, also known as Ring Road. This would lead us through 12 days of awe-inspiring scenery. Even driving in Iceland is a fantasy.
Landing in Reykjavik is an immediate introduction to the vast expanse that is Iceland. You arrive in a steady, bustling-but-not-too-busy airport, greeted by endless images of Icelandic sweater ads. Fitting. Fagradalsfjall volcano is still erupting as I write this blog post, so upon arrival, we checked into Raven's Bed and Breakfast and then headed out for a hike along the country's youngest lava flow. Heat was still escaping through cracks in the cooling rock.

Day 2 – Snæfellsjökull National Park
Driving from Reykjavik to the Snæfellsnes Peninsula took us through the Hvalfjörður Tunnel, past the Gerðuberg Cliffs, and to a stop at the Ytri Tunga Seal Beach. We could see one adorable seal lumbering along the shore. Búðakirkja is a small, distinct black church, surrounded by green fields, wildflowers, and peaceful graves. After a moment here, we moved down the road to experience a lava cave tour. Then we continued on to the town of Arnarstapi.
Of all the hikes I have ever experienced, the walk from Arnarstapi to Hellnar is one of the best. Accessible, flat, and only 2.5 km long, it is inviting and wondrous, filled with scenes of the teal North Atlantic waters washing against basalt cliffs as seagulls circle and squawk. We ended the day with a check-in at The Old Post Office, a hostel in Grundarfjordur. Here, I was able to journal by the light of the midnight sun.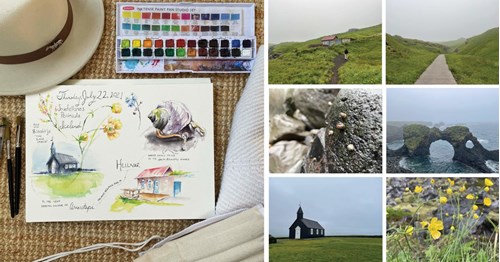 Day 3 – Travel north to Reykjarholl
As I mentioned, driving in Iceland is a fantasy in itself, and cruising north through the fishing village of Stykkishólmur was another scenic dream. This was my first sighting of orcas. Navigating a few dirt roads slowed our progress a bit, but our late check-in at Guesthouse Gimbur still allowed for plenty of time to view the Arctic Circle since the summer sun never really sets. We were in the hot tub until midnight with views of cotton candy skies. I used the Pastel Shades to quickly capture my view through an abstract landscape painting.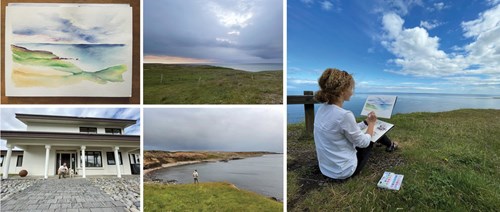 Day 4 – Travel to Husavik
After a traditional Icelandic breakfast of eggs, fresh tomatoes, and cheese, we headed to Goðafoss, one of Iceland's most recognizable waterfalls. We took a short hike and then drove to the southern end of Lake Mývatn, a serene lake and a birder's paradise. With bug nets protecting our faces, we hiked around pseudocraters, which are really just bubbles left over from when lava boiled the landscape. From there, we drove to Hverfjall volcano and hiked around the crater's perimeter. Again, we had a late check-in, this time at the very welcoming Arbol Guesthouse in Husavik.
Day 5 – Selfoss and Dettifoss
Sunday was the day of waterfalls, and Selfoss was particularly enchanting for me. It's an endless wall of water that flows over one basalt cliff and then makes its way down to Dettifoss, one of Europe's most powerful waterfalls. Both of these sights warrant their own blog posts. After a short 1 km hike around Hverir Geothermal Area, we made our way back to rest at the Arbol Guesthouse. Later I had time to paint Selfoss using the Graphitint palette. Those fine graphite particles beautifully represent the basalt lava rock cliffs at the falls.
Day 6 – Husavik
Monday was a day of celebrating Iceland's animals and wildlife. We started the day with a 2-hour horseback ride and completed it with a whale watching tour. For this animal lover, an hour of watching a humpback whale dive was one of the most meaningful parts of the trip. 

Day 7 – Seyðisfjörður
The town of Seyðisfjörður is nestled at the very tip of a thin fjord. More waterfalls and mountainous terrain accompany your drive to the eastern coast. The town is a charming image, with rainbow colored streets and creatively decorated buildings. We stayed in the Hafaldan Old Hospital Hostel, yet another gem. One thing we learned throughout our travels is that Icelandic hostels and bed and breakfasts do not disappoint. While it rained outside, I was able to spend a bit of time painting in the historic hostel.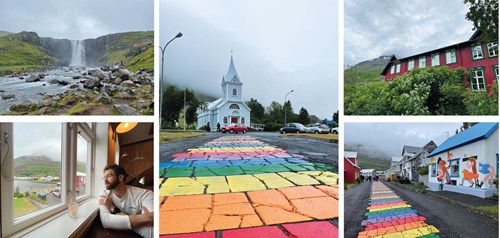 Day 8 – Jökulsárlón Glacier Lagoon
This was the day of ancient ice, and I had no idea how much the scenery would stick with me. I watched icebergs crash, crack, and flow through aqua waters as seals and birds swam and flew around the chaos. After a boat tour of Jökulsárlón Glacier Lagoon, we walked to Diamond Beach, a black sand coastline covered with icebergs. The beach truly looks bedazzled. After, we drove to the village of Kirkjubæjarklaustur where we stayed in the most comfortable AirBNB for three nights.

Day 9 – Laki Crater Tour
Thursday, we awoke and met up with a tour guide who drove us into the Southern Highlands. This tour was a dream for any amateur volcanologist.  In a single hike we could see distant glaciers and a perfect line of craters formed from the Laki eruption. If you are at all interested in volcanic history, I recommend researching the Laki eruption to learn about the haze and famine that followed as well as the global climatic effects.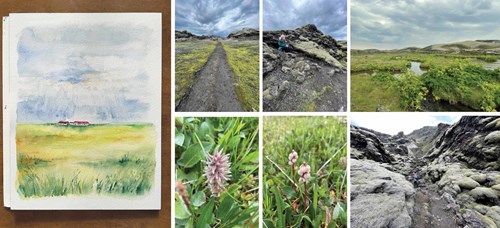 Day 10 – The town of Vik and viewing Puffins
On our final day in the southeast, we wanted to enjoy the scenery from our Airbnb and finally see some puffins. I spent the morning painting the scenic vistas from our place. A quick drive to Reynisfjara Black Sand Beach set the stage for perfect puffin viewing. These birds look like cartoon characters, with their vibrant beaks and expressive eyes. We ended the day with a short hike around Skógafoss waterfall before heading back for a final evening in the quiet fields of Kirkjubæjarklaustur.

Day 11 – Reykjavik
With a bit of sadness, we made our way back to Reykjavik to catch a plane the following morning. Our final day in the city involved a drive through the Golden Circle and a relaxing stop at the famous Blue Lagoon. Raven's Bed and Breakfast would once again host my family.

Day 12 – Fly Home
The flight home after such a dramatic vacation allows time to process. During the 6-hour journey, I pulled out my Derwent paints for a final time to illustrate a view from Husavik. 

THE ILLUSTRATIONS 
My family experienced Iceland, and I painted when I had time. I did not paint with the purpose to create masterpieces, but rather with the simple intent to connect and remember the sights and sounds of our trip. In the end, it is not important for these paintings to be accurate, and it doesn't matter if they mean anything to anyone else. The significant point is that for me, the action of painting and journaling created a lasting impression.
The illustration of the snail in Hellnar carries the sounds of North Atlantic waves, laughing seagulls, and my gasping, awe-stricken family amazed at the surrounding beauty. While painting a puffin, I realized the intensity of their summer colors and beak patterns. That simple watercolor will forever summon a memory of watching those quirky birds pop their heads about with the sound of my mom and I laughing. That tiny, quick sketch of the black church will forever evoke memories of the misty landscapes and strong coastal winds. From the Selfoss waterfall sketch, I can still hear the water raging over cliffs, and I will never forget the nap that my husband and I took on location.
I paint to remember. It isn't important to be precise. It is only necessary that I focus on the scene, that I open all my senses, and that I form the bond with the surrounding nature. Engaging in artistic practice is an active way to connect with our surroundings. Products like the Derwent palettes provide suitable tools for such partaking. I recommend these for your future journaling practice. Have fun with the products, focus on your surroundings, and simply paint to remember the moment.

Thank you to Abby Nurre for providing this blog for us. Discover more of Abby's work on her website, Facebook and Instagram.