There are two things I most love while creating artwork: city building shapes and painting! With the neat Line and Wash Set, you have a whole range of colours perfect for the urban and country setting, complete with waterbrush, sponge and two line markers.
Before lockdown, on a trip to London, I took this photo of the amazing cityscape from Waterloo Bridge and wanted to recreate it in a contemporary style . Each year the cityscape changes, new buildings are built.
What you'll need:
Derwent Watercolour Paper
Derwent Retractable Eraser
Derwent Precision Pencil
Set Square
I initially sketched out the idea in my sketchbook, (all my ideas go in there). What I was aiming for wasn't an accurate representation, but a celebration of all the shapes and buildings combined into one painting. 
I transferred my idea onto a lightweight paper first, altering shapes and height to get a good layout and balance. I used A3 photocopy paper. From this I transferred my drawing using a carbon type paper to copy onto the Derwent smooth Watercolour paper. There is no need to stretch this paper as it is heavy enough to cope with water.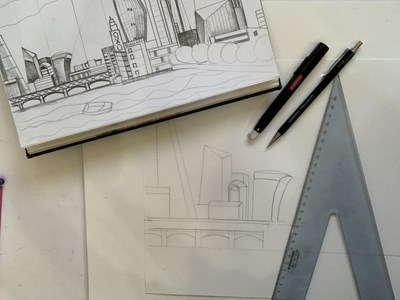 Sketching out the composition
Now, let the fun begin!
The trick of using Inktense paint is to layer it. Treat it just like watercolour paint, but the colours are more intense and lightfast. I am a huge fan of strong colour so these ink-like paints suit me perfectly. The waterbrushes are brilliant as you don't need to have a jar of water to hand. Just squeeze it a little, and wet the pigment; when you want to change colour, squeeze and wipe on the sponge.
I like to work all over the painting, rather than starting at one end. I find I get a good balance of colour and tone this way, and can spot mistakes.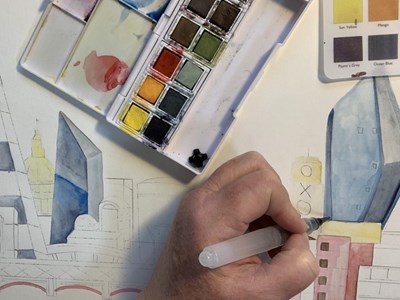 Adding in the first washes of paint
The brushes are exceptionally good, with a nice spring to them. You can load a decent amount of paint in the tip. Using the watercolour paper means that not a lot of paint sinks into the paper. Therefore creating a wonderful brushy effect. The paper is heavy enough to also take many layers of Inktense paint, and it also won't buckle. When the first layer is dry, it goes a little lighter, but then adding more colour brings the intenseness back. Just as you would watercolour.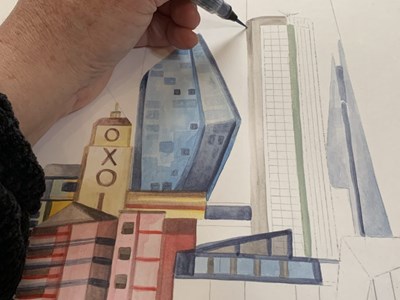 Adding in layers of Inktense
You can still erase drawn graphite lines once the paint is dry, without removing too much colour. I found that rubbing out did cause some of the paint to be lifted (when using the smooth watercolour paper), and in fact this was helpful for certain parts of my painting. As I am painting in my fractured technique, I like crisp, sharp edges and using my extendable eraser I can almost add edges and soften brush lines.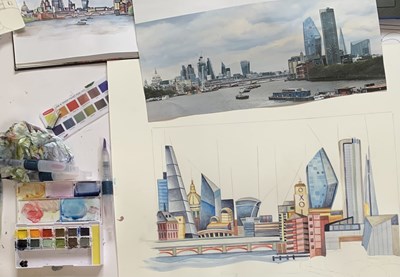 Sharpening up the edges
Once the paint is down, I began to add lines using the black Line Markers. These are also permanent so you can add on paint once dry and it won't bleed.
This set is incredibly useful when out urban sketching, you can build up more and more colour and tone and produce a strong, detailed painting.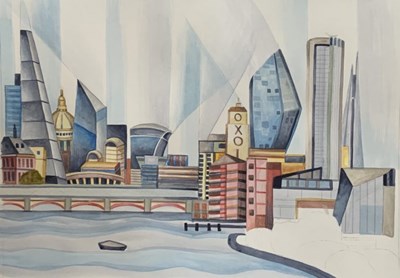 Adding in the finishing touches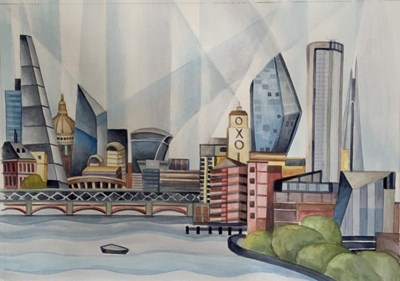 Final Piece – London Cityscape
Thank you to Tiffany Budd for providing this blog for us. You can discover her work on her website, Instagram and Facebook.