Pocket box of colours create a really big impact!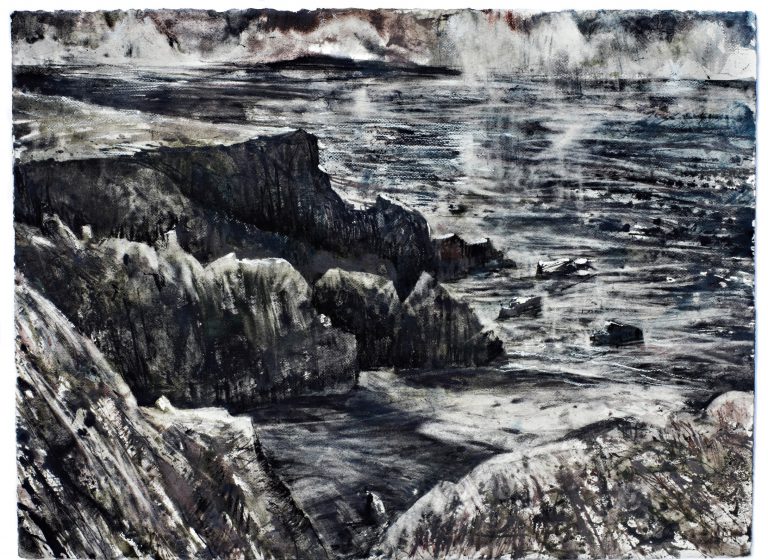 Any artist opening a box of the new Derwent Tinted Charcoal colours would be mistaken in thinking the compact Derwent Tinted Charcoal Paint Pan Set of 12 gorgeous colours were suitable for nothing more than just field sketches and small paintings. Well, you're wrong!
The versatile Derwent Tinted Charcoal Paint Pan Set is perfect for large scale works too and I'm continually delighted with all the creative large scale studio paintings I can create. There is really no boundaries to what you can do with them. The key to successful paintings at a large size is preparing large wells of Derwent Tinted Charcoal pigments so you have plenty of the unique, subtle and gorgeous colours to work with beforehand to allow your ideas to flow without constantly mixing. They are easily activated with a little water plus a medium size brush to collect the pigment from the pans and deposit into those deeper wells. In no time at all you are set up to let you big ideas flow!
For outdoor sketching you don't even need a brush or extra wells – it's all set up for you in the handy Derwent Tinted Charcoal set. In the lid of the box are 5 rectangular wells in which to mix your paints. The lid is easy to wipe with a tissue or kitchen roll to keep clean and to mix new colours in. There is even a small brush that comes with the set. This brush has an easy to fill water chamber in the clear plastic handle. A little squeeze allows the water in the chamber to travel to the brushes tip so you can begin to paint with it. The man-made fibre tip of the brush is protected with a click on 'pen cap' lid for protection of the tip of the brush after use. This handy little brush is perfect to use for those on the move quick en plein air studies you wish to make with all the lovely Derwent Tinted Charcoal colours in the box.
The final tool to use to paint with is a handy little synthetic sponge. One technique I like to use it for is to absorb some water with it and then dip it into the Tinted Charcoal Pans and paint with it on the paper surface. The little sponge used this way creates all sorts of really interesting effects!
The 12 subtle Derwent Tinted Charcoal colours have wonderful names fitting with their tones. Starting top left as you open the box the two rows of 6 colours in the box are (top row) 'Dark Moss' (a lovely earth green), then 'Forest Pine' (which is fact more like a warm green grey), then 'Driftwood' (with a hint of brown in a warm grey), next 'Mountain Blue' (a light cool blue and a personal favourite), then 'Ocean Deep' (a grey blue colour) and then 'Thistle' (another favourite that is slightly purple in colour and a deep crimson grey type colour – perfect for adding warmth to colour mixes.
On the second row we start with 'Glowing Embers' (a fabulous light coloured warm brown grey shade), next is 'Burnt embers' (a much richer darker shade of brown grey), then 'Burnt Earth' (a useful smoky brown grey), then 'Natural' (which is definitely a grey) and my ultimate favourite 'Dark' (a lovely deep grey black colour, very useful indeed for adding deep dark tones when applied over all colour washes or indeed mixed with colours to begin with to enrich their shades with a black bias pigmentation. Finally we have 'White'. This is a very useful colour in the Tinted charcoal set. The colour is unique.
Each of the 12 Derwent Tinted Charcoal colours are very quickly activated by simply adding a little water to each to soften them. I personally love the way each subtle colour has a unique natural granulation to them when dry, evoking different types of surface textures on which you choose to work to enhance your paintings. Texture is important to me as an artist in all my expressive landscapes and seascape paintings and Derwent Tinted Charcoals fit the bill.
Watercolourists will love these paints. I especially like the transparent effects I was able to create when layering one colour over the other in all sorts of exciting ways – wet in wet, glazes, wet over dry brush, dry brush over wet and so on.
Multiple tones of very subtle tints and tones can be created using Derwent Tinted Charcoal. Layering the pigments one colour over the other brings out the best in the media. With 12 colours to choose from, the colour combinations are limitless.
This new media is really good value for money too. The paint pans last a long time and the rich pigments can be drawn over and combined in all sorts of exciting new ways with other Derwent media such as Derwent Inktense, Derwent Tinted Charcoal Pencils, and Graphitint and Graphitone, for example, to create exciting mixed media paintings too.
Derwent Tinted Charcoal pigments are also easily lifted out and manipulated in lots of creative ways to create yet even more subtle blends of tints and with atmospheric effects. I particularly like the way I can use Derwent hard and soft erasers as well as the Derwent putty rubber to lift out colours to create misty effects and restore easily light back into my work.
The fluidity and enjoyment in creation with the Derwent Tinted Charcoal Paint Pan Set, is compelling and you just want to do more! Painting with this unique Derwent media is a really rewarding experience and I just love the way that all Derwent Tinted Charcoal paints so naturally work together and offer so many versatile possibilities – especially when combined with other Derwent painting and drawing media too.
I am delighted to welcome Derwent Tinted Charcoal into my studio and to take with me for outdoor painting and drawing trips too into the heart of the landscape as I know how well it works with you to help express your subject.
Derwent Tinted Charcoal most certainly has elevated my work to an altogether new and exciting and dramatic level and I'm sure it will do for you too.
Thank you to Robert Dutton (ASGFA) for providing this blog for us. You can discover his work on his website, Instagram and Facebook.