What you will need:
Matte Drafting Film
Eraser
Photo reference: Pixabay
I've been using coloured pencils for about 4 years now, but it was only this month that I took, what I felt was a big step, and ventured onto the slippery surface that is drafting film. I'm not completely new to film, having used it extensively in drawing offices when my job entailed making machine layout diagrams, but that was 30 years ago and I was using ink.
Whenever I try something new, I do like to reach for one thing that I am comfortable with. For this experiment I opted for my Derwent Lightfast pencils, which I have used on more traditional surfaces and love how they handle.
First, a couple of things about the surface. This film is a type of plastic, has a semi-transparent, frosted appearance, and very slight texture (on both sides) which enables the pigment to adhere.
By choosing a double-sided matte version, I was able to draw on the back too, which was useful when it came to enhancing those dark areas to get more contrast.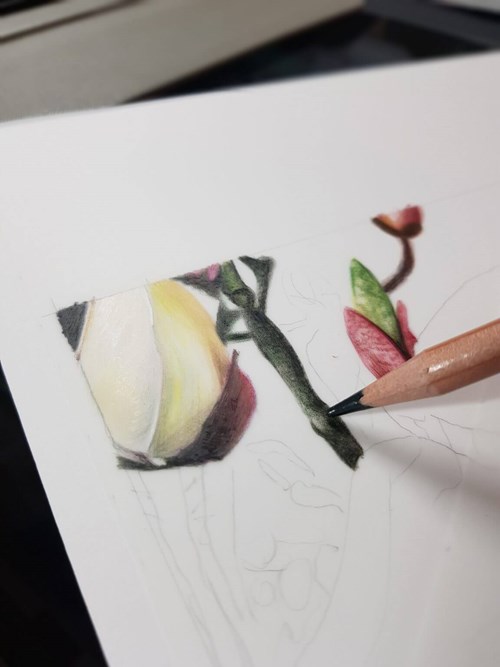 Start in the top left corner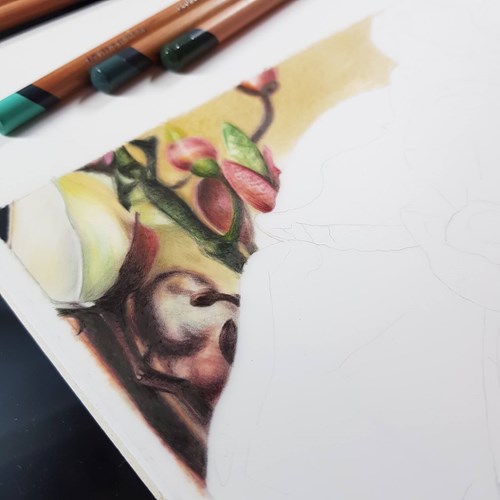 Adding dark areas for contrast
The Lightfast pencils made working on this new surface easier than I had expected. After a few practice squiggles and a quick pressure-test, I quickly understood that only a very light pressure was needed, but the intensity of the colour wasn't diminished at all.
Starting, as I usually do, in the top left corner, there were a good range of techniques to get stuck into from the outset.
The dark stems required a building-up of colour from vibrant yellows to those deep racing greens and dark chocolates. The pencils mixed effortlessly on top of each other thanks to their oil base and creamy texture which really suited this surface. There was no sliding and no stickiness, even when I pressed harder in the shadows. I added Mars Black on the reverse, just where the deepest shadows were, and this really enhanced the depth.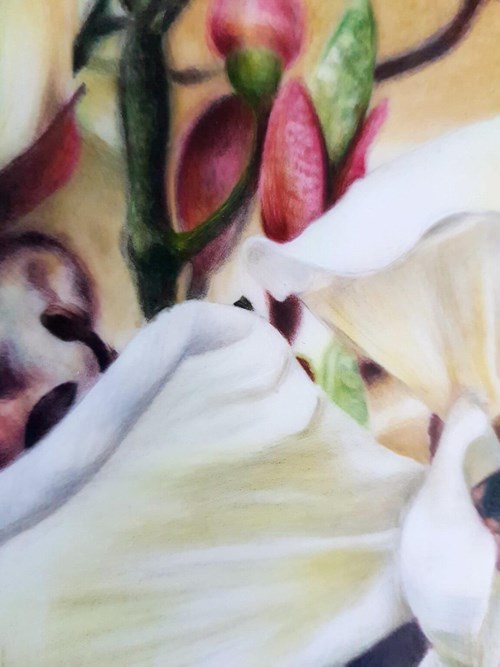 Adding details to the petals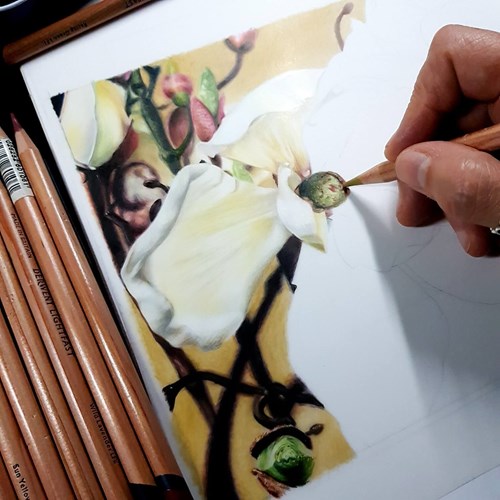 Creating the centre of the flower
The petals needed a few layers, and it was hard for me to avoid a few streaks when adding the shading. I have a heavy hand, and light pressure always gives me trouble. Thankfully, it was easy to erase on film, so I was able to lift any unwanted streaks and reapply. The good thing about petals though, is that they have a natural direction…I mean their structure includes some natural lines. I made sure I was always making my marks in the direction of those natural lines, so it was only the heavier marks I needed to deal with.
The background, being a solid colour, I thought would be the hardest to achieve, but again the high pigment content of these pencils meant that light layering, followed by a little heavier blending was relatively easy. I worked in small ovals to avoid those pesky start and stop edges, making sure not to scribble or vary the pressure until I was ready for it. Holding the pencil near the top helped a lot with that. 
There was pencil minimal dust created, mainly due to the light pressure being used throughout, but I did find it smudged quite easily. I worked with a spare piece of film under my hand, which also served to help with colour swatching. When there was dust, I simply tapped the page rather than dusting or blowing it away (just like with pastels).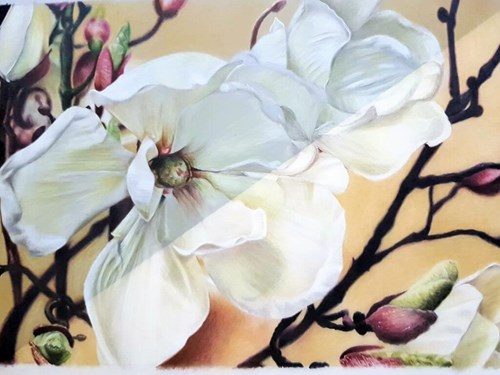 Experimenting with different backings
Another feature of drawing on drafting film is whatever colour you 'back' your artwork with will have an effect on the front. Here you can see the difference a black and a white backing is making to my drawing.
Since the Lightfast pencils are so opaque and I have ensured to cover the entirety of the page, the black backing doesn't make much difference. Had I used more translucent pencils or failed to cover the film it would be much more obvious.
You can get some interesting effects with changing the colour of the backing, and it is definitely worth thinking about that before you start.
I really like the softness you get with this combination. It is not impossible to make sharp edges with a well-sharpened point, and the Lightfast pencils do hold their point well, but as the soft focus on the branches and background buds was more easily achieved with a blunt tip, I don't think I sharpened those colours at all.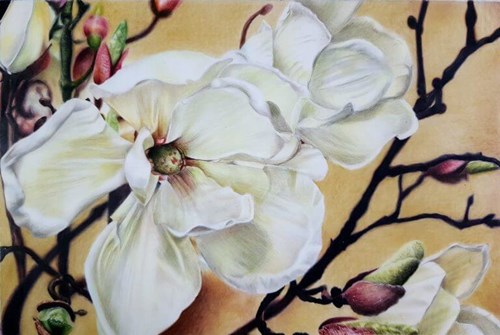 Final floral piece
For a first try on drafting film I am really pleased with my efforts, but I am sure that the Lightfast pencils made it so much easier. They are really versatile and seem to be suited to every surface I've tried them on to date. In this experiment they deposited plenty of pigment with the lightest of touches, blended well with a creamy texture that belied the harder core and delivered a beautifully opaque coverage, which is perfect for this kind of surface.
I highly recommend trying them.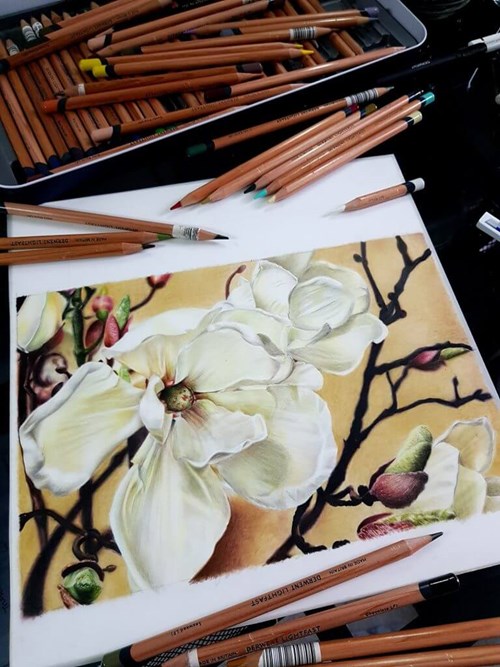 Final floral piece
Thank you to Helen Carter for providing us with this blog. Discover more of Helen's work on her website, Instagram and Facebook.