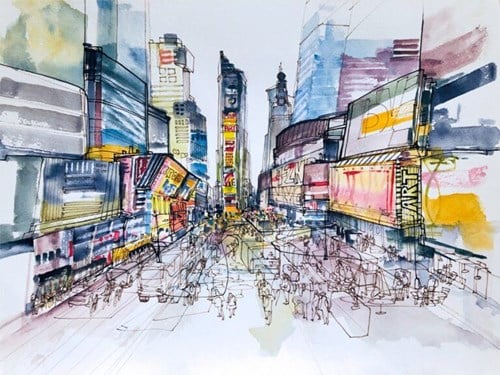 Times Square using the Derwent Line and Wash Set
Derwent materials used:
I am so honored to have been given an opportunity to experiment with the exciting new Line and Wash Paint Pan Set by Derwent. For several weeks of drawing on site, in the studio, and on the streets of NYC, I have been enjoying this wonderful new set. Derwent is a trusted brand I respect and always carry in my tool box. Because of that I wanted to be honest about my process during testing and aim for it to become one of the best paint sets any artist can use. There were many locations to choose from to really give it a good run. I was walking through Times Square and realized that I haven't been there in a long time and it would be a great test and perfect location to draw.
Times Square is the ultimate urban sketching scene. It's one of the world's most visited places at 40 million people each year. It's energetic, vibrant, and dynamic and no surprise that its bright lights can be seen from outer space. Times Square takes its name from the New York Times headquarters. I used to work just around the corner as an illustrator and creative director in the Garment District and I would have lunch, tucking in at one of the crowded tables on Broadway and practice drawing people and imagining Times Square in the past with Allen Ginsberg, William S. Burroughs, and Jack Kerouac hanging out on its street corners. I remember being there during the Millennium celebration on New Year's Eve and a flood of memories came back as I prepared to reportage at Broadway in 42nd street. The nucleus of Times Square. The weather suddenly became dreary with torrential rain all week until it finally broke over the weekend and I was able to enjoy a full weekend of reportage drawing in bright and sunny weather.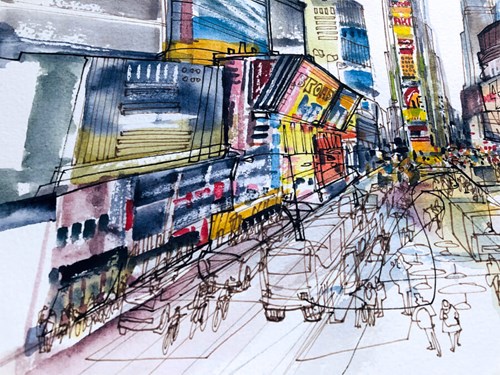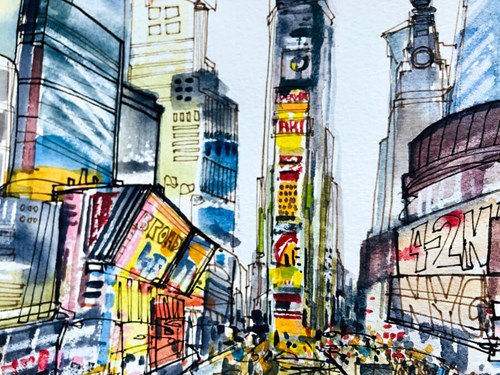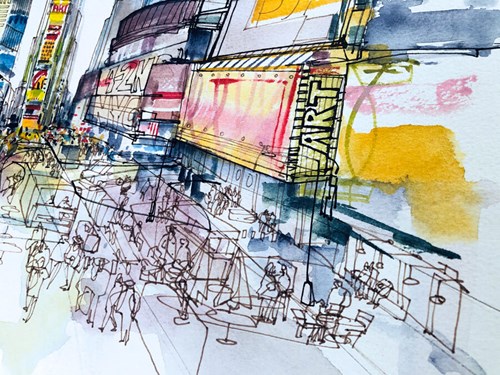 Close ups of Times Square using the Derwent Line and Wash Set
Drawing there was like getting reacquainted with an old friend I hadn't seen for much too long and realized what I had been missing. An interesting fact about Times Square is that it's actually not a square area but a couple of triangles, with Broadway slicing through a tumultuous stack of intersections. Looking down Broadway is like getting a glimpse of the heart of a great city, its main artery, luminous and diverse, full of life and commerce. The Line and Wash Set matched my intentions step by step and mark for mark as everything fell into place and my location drawing felt natural. The paint set case has always been the perfect size for on the go situations and when I first opened the set, I was immediately drawn to the beautiful family of colors and tones. Natural colors are a perfect palette for urban drawing and painting on location. Colors like Mango, Poppy Red, Port, Paynes Gray, and Meadow are just some of my favorite colors that I normally have to mix with primary colors in other paint sets to attain a more artistic palette. Having that color range and the Line and Wash Set's ability to let me tell a different story for this and any situation, makes it the paint set I will always want to have with me when exploring.
I am excited to share this new reportage illustration. My intention was to make art that ultimately captures the versatility and potential of this new Derwent Line and Wash Set and also capture the essence of such a dynamic location. I'm so happy with how the art turned out. I came in curious, also a bit cynical about what Times Square is now, but came out with this new illustration that I'm delighted to share; along with a new found understanding that Times Square is essential. A key part of our great city and it will always be here for all of us and our stories in flux, ever growing and changing in ways the energy of NYC vibrates that movement always towards the future. Times Square has been welcoming everyone from everywhere to come together at its crossroads and fly headlong into the possibilities of today and tomorrow. I'm so glad to come back and capture it once again.
Times Square using the Derwent Line and Wash Set
With love from the forty deuce, drawing from the old and the new.
Jedidiah Dore
Thank you to Jedidiah Dore for providing this blog for us. Discover more of Jedidiah's work on his website, Facebook and Instagram.