Derwent Presents:
Inside the Sketchbook with Neil Whitehead
Welcome back to Inside the Sketchbook — a series dedicated to exploring the methods, mediums and mindsets of the next generation of artists. In our second instalment of blogs, we're talking to more incredible, up-and-coming creatives who are making their mark on the world, through their sketchbooks.
First up, we spoke with Neil Whitehead; an urban landscape artist, based in Taunton, known for his beautiful line and watercolour captures of the UK's towns and cities, whose work can be found in galleries and homes across the world.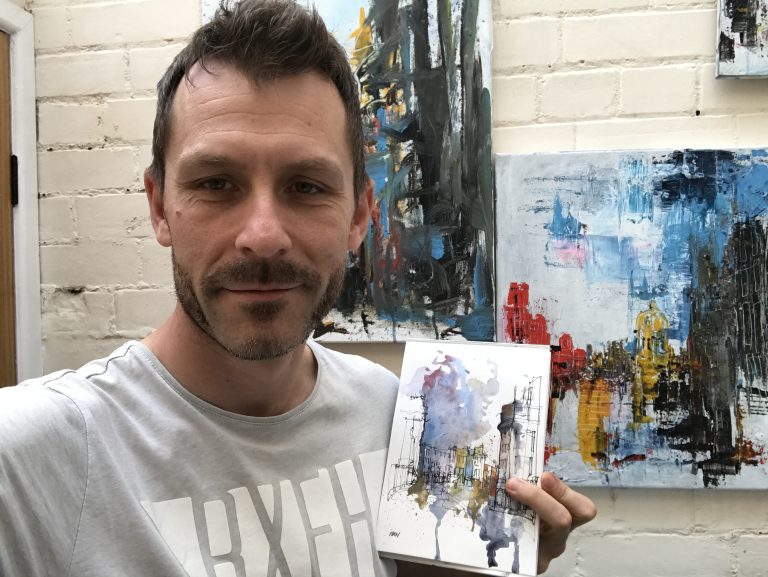 What's your artistic backstory?
Art was always my love as a kid and as a student at school. I spent my youth with colouring books, before the digital revolution. I went through school loving the subject, so art college felt like a natural move. After my foundation course — which I think absolutely everyone should do, it's a brilliant year of finding yourself as an artist — I then went on to an Illustration degree at Portsmouth University, which morphed into a career in graphic design. Getting a job back in the 90s and early 00s was tricky before social media, so graphic design was my route in, where I got that key commercial experience and got more involved in the marketing and business side of art and design.
I guess I always struggled with what "defines an artist". In my mind that meant that was all you did — you lived off of everything you sold. But I was wrong, being an artist is a state of mind, not sales. And with social media now you can get your work out to millions of people. That world has changed for me, and has been a massive boost in my artistic career.
What's your proudest artistic achievement to date?
Tough one. There are always major milestones. I've sold internationally, and taken commissions for all kinds of projects — younger me would have thought that impossible!
When I first started out, I thought "wow, someone wants to buy something I've done?", which literally freaks you out, with several sleepless nights thinking about the balance between creating something they want, but in your own style.
Like most artists, I am shadowed by imposter syndrome — battling between being my own worst enemy but also my biggest champion — but I had a big revelation in the last lockdown. Someone local to me reached out via Facebook, and bought a range of canvases from me, in my front garden (all PPEd up). It was surreal really, and an amazing moment. Everyone was struggling at that point, so to be able to give someone some original art in the front garden, with everything going on, felt like quite an achievement. I'm proud to have been able to bring joy to someone through my work during that weirdest of times.
What do you want people to feel when they see your work?
I class myself as an urban landscape artist, capturing the towns and cities we live in. I like to create more artful interpretations of what I see, rather than realistic representations, so I want people to be able to feel as though they could walk into my scenes, and really explore the markmarking, colours and elements of the scene in a new and exciting way. I want people to see things about the places they live that they might not normally notice — give them a new perspective, like they're seeing it for the first time. Everything from the little forgotten archways to the old shop frontages that bear the marks of previous generations, it's all part of our urban history.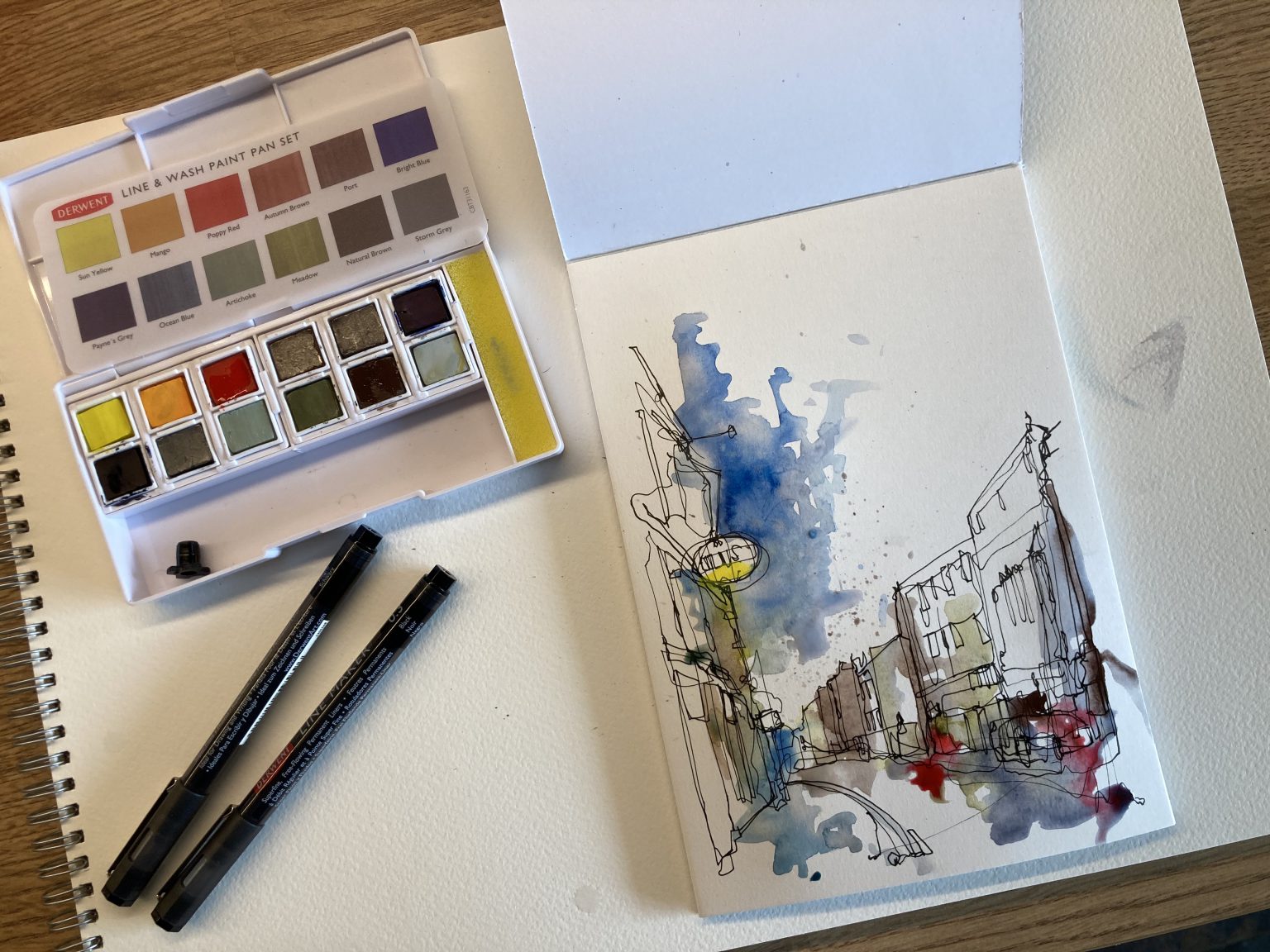 How do you choose the urban landscapes to draw?
I've always been inspired by the landscapes around me. When I left university I worked on Fleet Street — down the road from St. Paul's Cathedral, where there's an abundance of incredible architecture — so lunchtimes were mostly spent with my sketchbook, capturing all these places. Now, I live down in the South West, I haven't got quite the architectural spaces on my doorstep, but I still enjoy capturing the depth and perspective of everyday buildings, and, to my previous point, it's about capturing the little things people might not have noticed before. I like the theme of urbanism, so some of my work might be born from on-location sketching, but I will also throw in some imaginative pieces too.
The colour blue appears in your drawings frequently, does it mean anything to you?
I just love the colour and the life it brings. I'm happiest in the summer — I'm not a winter person — and blue sky for me is reminiscent of family summer holidays down on the beach at Elmer Sands, near Bognor. If I'm doing a piece, I always go sky first, and leave lots of room for it. It sets the tone for the whole piece.
How does sketching on location differ from creating from a photograph? Do you feel more inspired by having it all in front of you?
They both have their challenges and benefits. There is a rawness that you can only really capture on-location, but it can be tricky. Finding somewhere to sit, bringing all the kit — it's always very non-discrete, and people tend to wander around you and look over your shoulder. You just can't predict being on-location — the weather, the timing, or the crowd — but, actually, it becomes part of your work, because you might not finish, or it might become part of your development, and that's just as important as the end result.
Most of the commissions I get are done from photographs, and that's always a challenge, because it's not the photo I would have taken, where I'm on my knees, at a crazy angle with lots of sky. Instead, it's usually a flat-on image of someone's house, and quite literal. I guess the main thing is the perspective and angles are always going to be different from the human eye.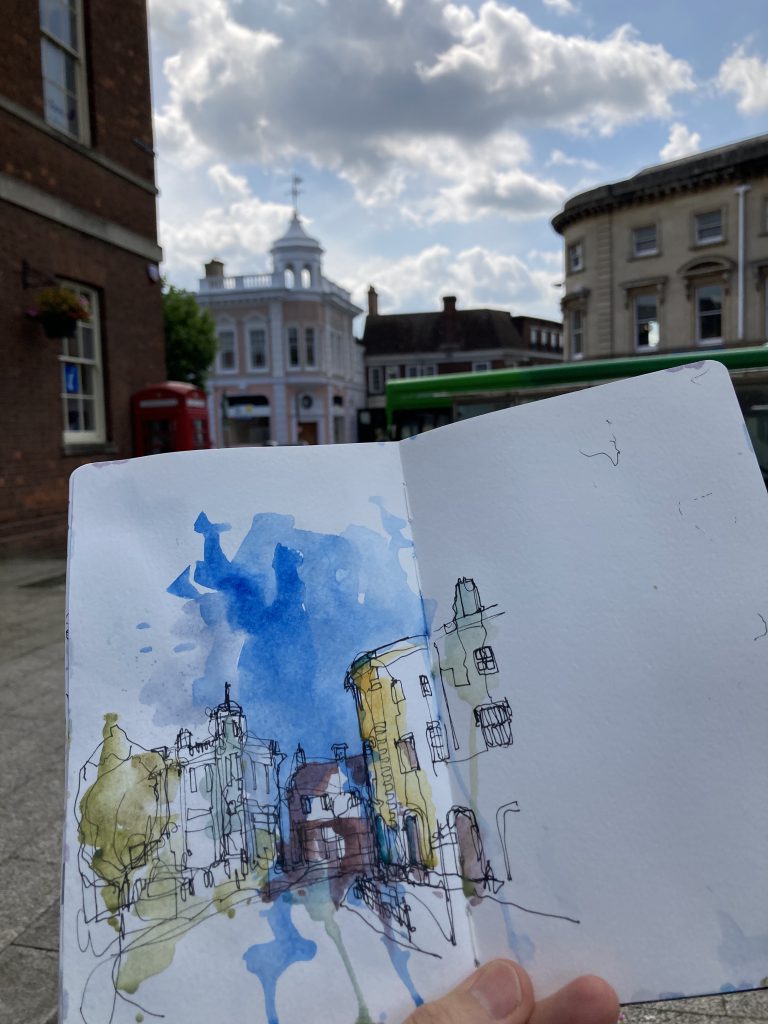 How do you stay true to your original style?

I ask myself this question all the time. It's a question that rages across the art scene, because are you ever really finished developing your style? It varies from your early career to the more sought after artist like Damien Hirst, who, at that point, has such a following for what they do people just want it. But my style is always developing. 20 years ago, I'd have cringed at my earlier style, but I'd imagine there's still an essence of my markmarking that's still recognisable from it even today. I guess I have a fear of having a template style of art, so I have exercises like quick, continuous line drawing, that keep my work from being too contrived or overly detailed. I always remember back to my early art classes as a child, when my teacher was looking at this elaborate piece I'd created and said "it's great, but it's got no rhythm". I didn't understand it at the time, but now I know that I'm only being true to my style if it's got that rhythm, and that sense of realness.
Why is it so important to use quality materials?
I get hundreds of messages asking what paints and pens I use. I've probably got 70 or 80 of my favourite pens stockpiled in a shoe box, because I trust the quality of them. Having quality art materials that you trust is all about them performing as you expect. I'll always embrace surprises in application, but if there's inconsistency in the quality or the colour, it creates real problems when making prints, which is why finding a quality brand is so important.
What does Derwent mean to you?
Derwent, to me, is a brand that exudes trust and quality – a familiar name I've grown up with throughout my journey as an artist and creative professional. A brand that's remained true to their core values in producing reliable artist materials for every level. It is genuinely exciting to see a new wave of product lines being developed with the quality and craftsmanship that Derwent has. I've relied upon their range of papers and colouring pencils for many years – as an art school student right up to my more recent sketchbook pieces that gave rise to my larger gallery exhibits.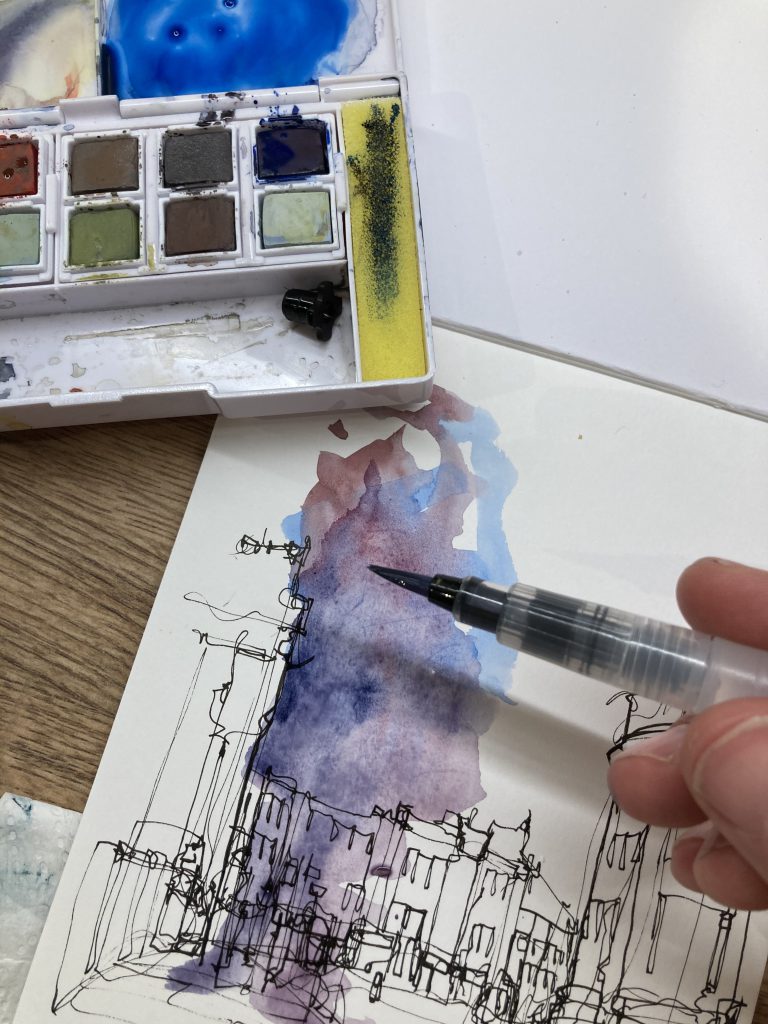 How has the Line and Wash Paint Pan Set helped you to best create the piece you've designed for this campaign?
The Line and Wash Paint Pan Set opened my eyes to a whole new way of working. The strength of the pigments is truly remarkable, and it took very little time to adjust to using the supplied waterbrush.
My artistic process is fuelled by lots of water and the supplied waterbrush had such a lovely even flow and could also be used to flood the page and create the happy accidents that are so typical of my work. The set is perfectly portable and an urban sketcher's dream! I cannot express just how vibrant the colours are and how refreshing it is to see them stay strong and true when dry.
The supplied Line Maker pens flowed as expected from a Derwent fineliner and coped well with wet watercolour paper. I was able to lay down the initial sketches across a range of artworks first, as I always prefer to do, and then bring the pages to life with the vibrant tones.
A brilliantly portable set of exciting paints that I will be using regularly from now on.
Can you give us a three word review of the Line and Wash Paint Pan Set?
Vibrant, expressive and fun.
How do Derwent's art supplies help you create the perfect piece?
The Derwent range of materials are just great to work with, I have begun using the watercolour paper and adore the smooth texture and the amount of water it can comfortably hold. The Line and Wash set is now a key part of my artist kit. The accompanying Line Makers are just a joy to work with, they don't get clogged by water or paint and flow beautifully — they also offer real flexibility in line thickness, a key aspect when looking to capture depth and tone.
These materials are all safely stored away on my Derwent carry-all bag which holds a great deal of kit and is strong and durable. I would highly recommend artists of all levels to invest in Derwent materials — the quality you get from a specialist is clear to see.
Thank you for Neil for taking some time out of his day to speak with us. Stay tuned to our Inside the Sketchbook series, as our talented line up of up-and-coming artists tell us their stories and unpack their work.