It's always fun to unbox a new art product. This very convenient set was no exception. In fact, it is a completely self-contained, pocket-sized art box – cased in a robust, portable plastic palette containing 12 half pans of water-soluble tinted charcoal plus a waterbrush and small sponge. The palette lid is divided into 5 shallow wells for paint mixing or washes. It closes securely and is easy to slip into a pocket or rucksack.
I was already familiar with Derwent's XL Charcoal Blocks – but had only ever used them dry for various drawing projects. I was keen to see what could be done with this soluble version. The first thing I did was to make up some paint swatches of the full range using three different papers.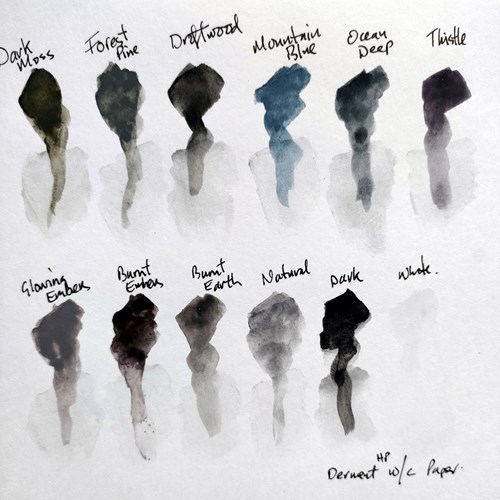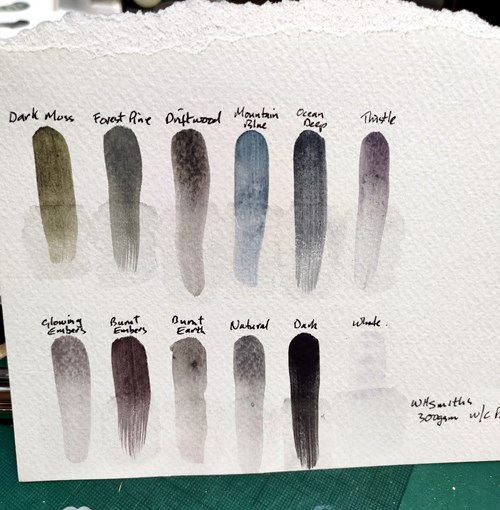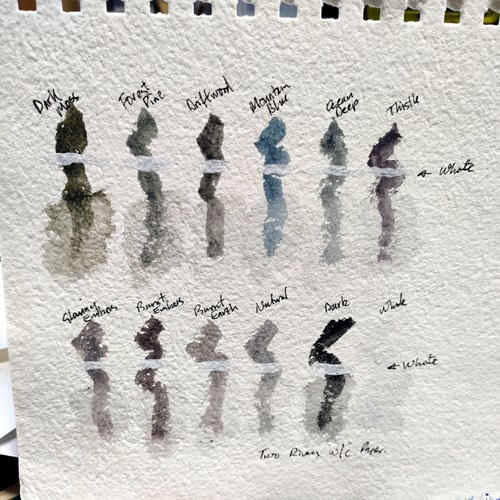 All the swatches had a very satisfying, completely matt finish when dry. The colour differences are subtle and hard to ascertain from the appearance of the dry paint pans. However, the pigments used for the tints are all strong and have a pretty powerful staining quality. The subtleties are much more apparent in use and there are some minor differences in intensity/transparency. The pigment and charcoal appear to be ground very fine, as there is no real difference in the modest granular effect obtained when making washes. I found that the pans absorbed water very readily but dried quickly, so I needed to keep them flooded with water to keep them workable.
After the swatches were dry, I experimented with the White pan to see how opaque it was (as shown on the third image above). As long as it is mixed densely, it is enough to cover dried marks made by all the other colours and is not too bright. I really like the effect of the dried paint on the Derwent Watercolour Paper. It is very matt and the colours appear slightly denser than on the more textured surfaces. The dried paint can be re-wet, and edges can be softened a little, however, the staining strength of the tints are quite strong.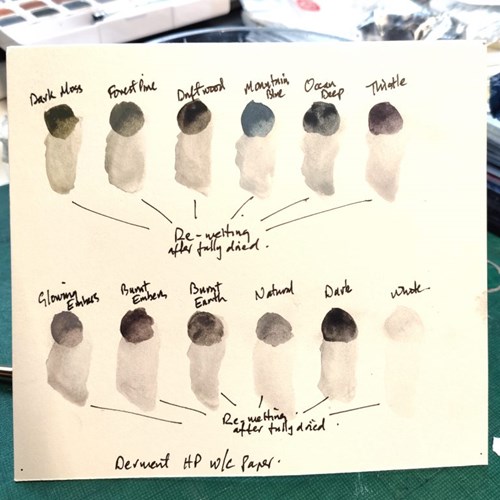 For me, the big benefit of the high staining strength is that it is possible to build up layers without destroying earlier passages of paint.
After playing for a while, I worked on two fairly rapid studies. Firstly, a landscape study from imagination – based on the Suffolk water meadowscapes.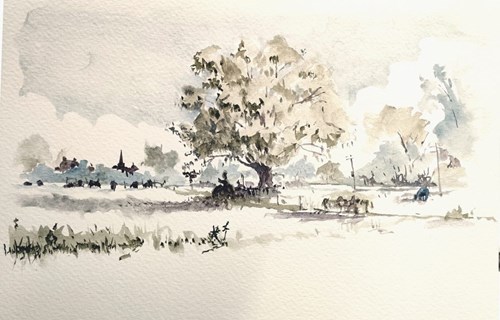 The whole thing was done in one go with the exception of the sky, which was added as a transparent wash once the sketch had dried. I quickly decided that there were a few of the colours that I favoured. Although the colours are subtle and I was really working with tonal value more than anything else, the colours had different temperatures and this was very useful. Mostly, I kept the cooler tints in the background and the warmer ones for the foreground and shadows. Overall, I'm very pleased with the effect of this little sketch. I will certainly keep this set available to slip in my pocket for field sketches.
The second study was a loose portrait – done in the studio from a photo of a friend.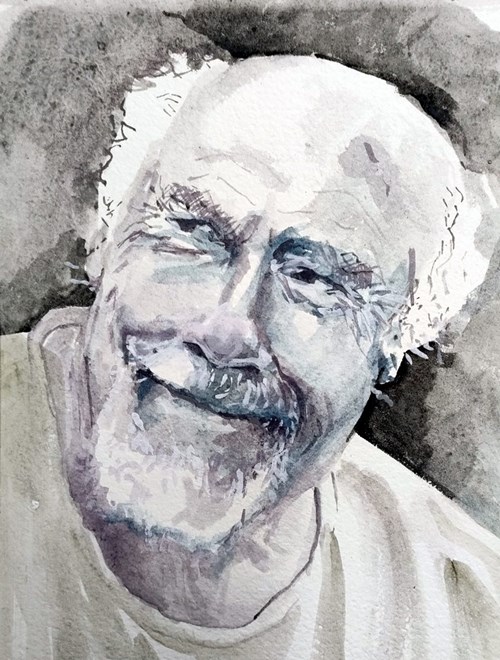 I worked entirely free hand. Once again, I tried to use the relative temperature differences between some of the tints to help with the modelling of the facial features and built the study up in layers. This study was mostly done with the mini waterbrush. I did use the White at the end for a bit of correction where my (unplanned) drawing was a bit off! I also used a little White, Thistle and Burnt Earth with a finer rigger brush to add a little detail to hair and beard. Finally, I added the dark background wash using a larger round watercolour brush.
The supplied mini waterbrush is excellent and keeps a good point during use. Its size means it is less useful for creating washes, however, it is a really lovely tool and perfect for work "in the field", where you need to work quickly or a larger painting set up is just not convenient.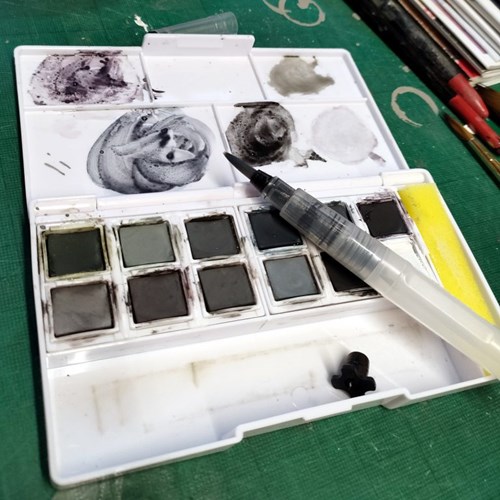 Summary
The Tinted Charcoal Paint Pan Set is robust and convenient. It can be used entirely satisfactorily as a stand-alone set in the studio or in the field. As a tonal painter, I really enjoyed the subtleties offered by the tints and the convenience of having them all together in one set. The surface quality of completed sketches is uniformly matt and subtly different from regular watercolour. I found this to be very satisfying. Perfect for sketchbook work. This will now live permanently with my outdoor painting kit. Entirely suitable for all artists – regardless of experience level.
Thank you to Malcolm Cudmore for providing us with this blog. Discover more of Malcolm's work on his Instagram.