The Derwent Chromaflow pencils are the newest addition to the Derwent line and in my opinion the best! They have a smooth, creamy laydown that allows you to build up the smallest amounts of color resulting in seamless blending throughout your piece. This soft-leaded pencil not only excels in soft glazing though; I also like the way I can continue to work already colored sections even when they have been completely burnished. See in the image below the range these pencils can create. The right is very soft laydown and the left is very solid with no paper tooth showing through.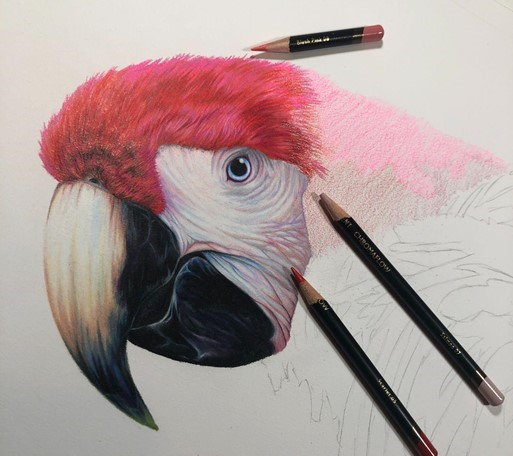 I have always been a fan of soft pencils and have worked with Derwent Coloursoft for years. Chromaflow stood out to me because they feel a lot more oily than the drier Coloursoft, which I feel adds to their blendability. Chromaflow feel more like drawing with an oil pastel to me whereas Coloursoft feel almost more like a chalk pastel. In addition to Chromaflow's ability to create large smooth sections, it also holds its sharp tip well allowing for tiny details too. You can see in the image below how I was able to create smooth gradients on the larger feathers, but also able to create the small white hatch marks on the neck and edges of the feathers. I also really love the vibrancy of this pencil line. As you can tell by the drawing below, the Chromaflow pencils are so saturated and also have a very dark black!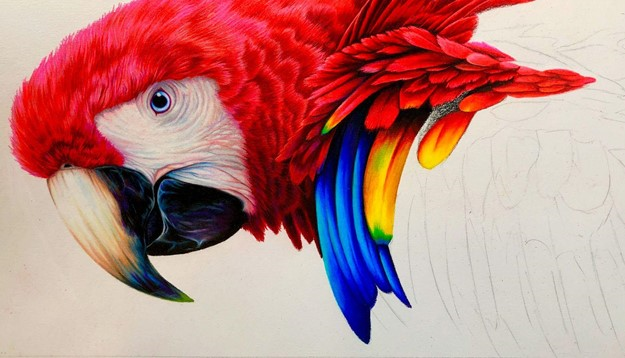 Throughout my years drawing in colored pencil, I have always relied on multiple pencil brands to finish a piece. I would use a soft pencil for foundation layers and then a hard pencil for detail work on top. Chromaflow has the perfect balance to be a standalone pencil. It is soft to avoid scoring the paper when blending, but will also hold its point to create sharp edges and small details. The biggest problem I have run into with soft-leaded pencils is the breakage. When a pencil gets too soft it cannot hold a fine point but this isn't the case with Chromaflow. You can see in my final drawing of the parrot there is quite a contrast in texture between the blurry background and the parrot. This piece was created using only Chromaflow pencils and has been used on the pencil tins! 

Thank you to Kinsey Lane for providing us with this blog. Discover more of Kinsey's work on her website Instagram or Facebook.